Two months ago I bought a 13.3-inch ASUS ZenBook laptop. For the most part, I am very pleased with the performance of the laptop, but there a few things I dislike.
We got off to a rocky start when I had issues with the display that was too dark to read. ASUS support was useless and clueless to help me.  Fortunately, I was able to fix the display issues. I posted how I did it on Medium.
My new ASUS Zenbook was too dark. How I fixed it.
I was able to fix the brightness issue, but I have 3 more things that I dislike that I want others considering a Zenbook to be aware of.
#1 The Fingerprint Reader
The Zenbook has a fingerprint reader to unlock the laptop. It works about 40% of the time. The other 60% of the time, I press a few times – each time failing – before having to enter a PIN. Meanwhile, the fingerprint reader on my iPhone 6s works 99% of the time on the first try.
#2 The Keyboard
The thing I dislike most about the Zenbook is the keyboard. The keys need to really be pressed to register. The keyboard on my cheap Chromebook is so much better. I have to retype so many sentences on the Zenbook because letters are missing. The biggest issue is when a word has two letters that are the same beside each other. It will often only capture one of the clicks, so Good becomes God.
#3 Adjusting the Volume
This has to be the dumbest keyboard thing I have seen in many years. In order to raise or lower the volume, you need to hit 2 keys at the same time. And the keys are far apart, so it requires both hands.
FUNCTION + F11 (lowers the volume)
FUNCTION + F12 (raises the volume)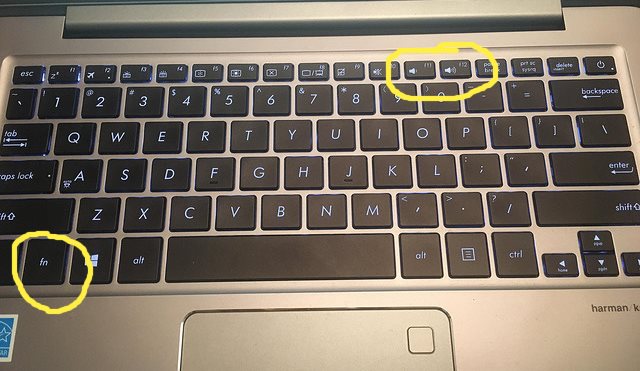 My Next Move
Perhaps I need to buy a USB Keyboard with actual up and down volume buttons and attach it to my Zenbook? That would solve two of my problems. I could use the keyboard at home and use the ASUS keyboard when out.
ASUS ZenBook UX330UA-AH54 13.3-inch LCD Ultra-Slim Laptop

UPDATE: I went to Best Buy and chatted with a sales rep. He showed me that all Windows laptops require hitting the Function key and another key to adjust the volume. Asus happens to spread it out further than other laptops. One of the makers (maybe HP or Dell?) uses the F2, which means one could much easier adjust the volume with a single hand.
Anywho…I bought a USB laptop and am typing away happily on it right now.