Yesterday I cooked up some ground pork and cabbage. This is a low carb twist on a classic Irish dish that uses potatoes. If you just got back from lifting weights at the gym, add the potatoes back into the recipe. Otherwise proceed as described.
Before I get to the recipe, I want to discuss the economics of this recipe. The pound of ground pork came from local pastured farm and cost me just $4. All the veggies and spices combined cost about $1.50. The total cost of this dish was $5.50 and it made 3 servings. That works out to less than $2 a serving. I could have added more onions or even potatoes if I wanted to stretch out the servings for even greater value.
Whenever the media reports that poor people can't afford to eat healthy, I just shake my head in frustration. They are repeating the same old disempowering message, which is simply not true.
Summary: A low-carb twist on a classic Irish dish.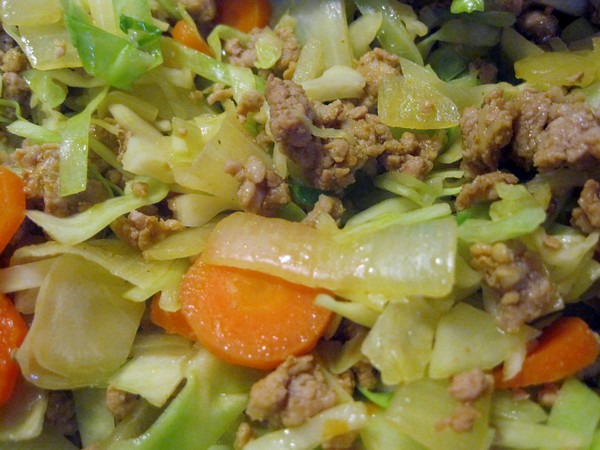 Ingredients
1 pound of ground pork
1/2 head of green cabbage shredded
4 thinly sliced carrots
1 sliced onion
1/4 teaspoon of turmeric
1 teaspoon salt
black pepper to taste
Lard, tallow or other healthy cooking oil
Instructions
Heat up onions and carrots in skillet with cooking oil. (about 5 minutes)
Add salt, turmeric, cabbage and pork.
Cook until pork and cabbage are done (about 15 minutes)
Cooking time (duration): 25 min
Diet (other): Gluten free
Number of servings (yield): 3
Culinary tradition: Irish