I've received several requests to comment on Bulletproof Coffee. The reason I am being asked is not only have I been an active blogger on nutrition for a few years, but I'm also a coffee enthusiast. I run the site INeedCoffee.com and have been home roasting coffee since 1998. I live in Seattle and have taken espresso vacations to Portland and Vancouver. I've been invited to judge at barista competitions and I am the organizer for The Coffee Club of Seattle, which has over 500 members. In 2011 we visited 114 different coffee places. In other words, I like coffee.
Defining Bulletproof Coffee
Upgraded Coffee is the name of the coffee sold at the Bulletproof Exec, which invented the Bulletproof Coffee brewing method. I have not tried the branded Upgraded Coffee, but I have no doubt that it is excellent.** I listen to the Upgraded Self podcast and I can tell Dave Asprey sourced a good roaster and importer. This post will not be about the branded Upgraded Coffee. It will be about the Bulletproof Coffee recipe.
** 2015 UPDATE: Some coffee friends of mine cupped Upgraded Coffee at a Seattle roastery in early 2015. The roast was uneven and the coffee was described as just tasting OK. Not worth the price if you are buying the coffee for the flavor. 
To make Bulletproof Coffee you will add MCT oil and unsalted Kerrygold butter to your brewed "mold free" coffee. This is supposed to taste wonderful and provide all sorts of health benefits. I am aware of the health benefits of doing a fat based Intermittent Fast. In the post Intermittent Fasting – The No Hunger Method, I posted on how I used a strategy outlined in the The Perfect Heath Diet to accomplish the same thing. Instead of butter and MCT oil, I used coconut oil and fermented vegetables. Both his method and my method are feeding the body short chain fats while depriving the body of glucose.
Cognitive Benefit and Taste
I have made Bulletproof style coffee using my home roast a few times now. Did I experience a cognitive boost? Nope. Maybe my body already has enough short chain fats and this style of coffee would be more beneficial to someone deficient. I didn't notice any increased alertness, like I did with L-Tyrosine. The coffee beans I used were, as Dave suggested, wet processed coffees from Central America, as they are the least likely to get mold. I bought them from Sweet Maria's Coffee in Oakland, who uses the importer Royal Coffee, which is used by several of the top roasters in the Pacific Northwest and San Francisco. So I will say that the quality of my beans is equal to the best roasters on the West Coast.
As for the taste, I found it to be disappointing, bland and borderline gross. I love the taste of coffee and I love the taste of butter. Mixing the two does not enhance the flavor, it negates it. If you like cream in your coffee then switching to butter might make perfect sense and be a wonderful pleasant tasting experience for you. I personally think it is criminal to acquire the best coffees in the world and then cover up their taste with anything, be that butter, cream, sugar or MCT oil. A better option for me would be to enjoy coffee in all its perfection and then go about consuming short chain fats.
Which source of short chain fats is superior is a topic I'm not interested in investigating. My guess is Kerrygold Butter, MCT Oil and coconut oil are all excellent choices. Just as long as they stay the hell out of my coffee.
Roast Your Own Coffee
Dave has a post on finding the best roasters in your city. It involves looking at Yelp, which in my opinion provides the worthless reviews of 20 year olds with little life experience that bitch about not getting a strong WIFI signal. There is one Seattle roaster that buys lower grade coffee that has a baggy taste with over 100 glowing reviews on Yelp. With enough milk and chocolate any drink can taste good, but that doesn't speak to quality of the coffee itself.
A better method for locating the highest quality coffee would be to discover who is the most respected in the industry. Visit Coffee Review to find the best coffee roasters in the country. One might be in your town. Another strategy is to find out if there are any regional barista competitions and which cafes and roasters are being represented. Quality talent tends to work for quality coffee businesses. But sadly, most of the country has woefully bad coffee. The only way to guarantee you are getting the highest quality coffee outside of expensive mail order is to roast your own coffee.
There are many ways to roast coffee at home. INeedCoffee has entire section of home roasting coffee tutorials. It is a super easy and very rewarding hobby. And because your buying green coffee, you'll save a lot of money. Like I said earlier, the beans I buy from Sweet Maria's are some of the same crops the best roasters on West Coast are bidding for. On the Sweet Maria's website, you can see the processing method used for each offering. To be Bulletproof compliant source the Wet Processed coffee. Each coffee is cupped by professionals before it is offered for sale. They taste for defects and only buy the best.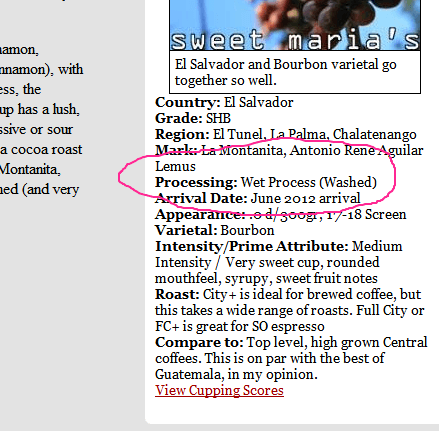 Screenshot from Sweet Maria's website showing you how a coffee was processed.
Better Than Bulletproof Coffee
My coffee journey has turned me into a snob. I make no apologies for that. If I can't have outstanding coffee, I will drink tea. Putting butter inside my wonderful coffee was a vile experiment that I do not ever wish to repeat. A better strategy is to source the best coffee green, home roast the beans and then consume the coffee black to appreciate the true flavor profile. Once you've finished your delicious cup of coffee, consume your short chain fats.