When I went to Ranch 99, I knew wanted a new kitchen challenge. Something that I never had before. Something exotic. When I saw the package of pork uterus, I hesitated for a moment and then threw it in the cart. After I got home, I went looking for a recipe. There really isn't much out there. What I did find frightened me a bit. The post Scary Food on Bay Area Bites lists Pig Uterus as the #1 Scary Food sold at Ranch 99. From that post:
And it began to cook.

And it began to smell.

"Jesus Christ, there is NO WAY, I'm tasting that," Tristan shouted. The smell got worse, perhaps mixing with eau de fermented mudfish. "It smells just the way a cooked [uterus] probably should smell," he cried above the hiss of the oil and the mass of sizzling pink-grey tubes.
The author proceeds to put the entire dish in the trash and then take the trash out after the cat showed too much interest.
Now I was worried. I had to assume the taste would not be to my liking, so I'd need to surround the pig uterus with heavy tastes that I already enjoy. My weapon of choice would be curry made from coconut cream.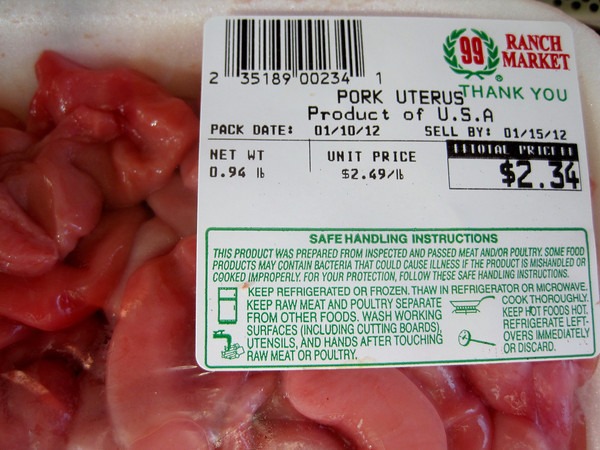 Summary: Hiding the taste of pig uterus in a Thai Curry.
Ingredients
Pig Uterus ( I used 1/2 pound)
Onion
Curry Paste (I used Massaman)
Coconut Milk or Cream
Yam or Sweet Potato (for sweetness)
Cabbage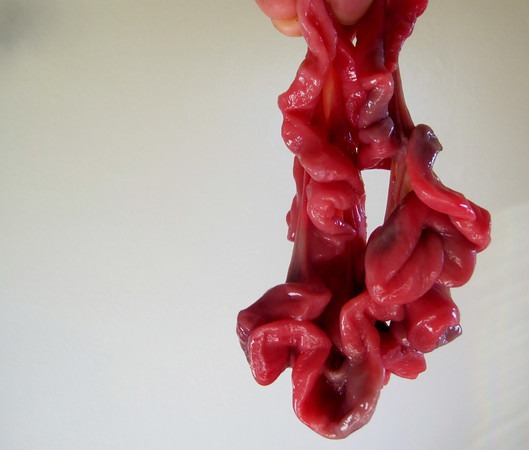 Be sure to chop up uterus meat.
Instructions
Saute onion in oil (I used coconut oil).
Add curry paste (as much or little as you want).
Add coconut milk or cream
Peel and dice yam. Put into curry.
Cut uterus into bite sized pieces. Never thought I'd write that sentence.
Chop cabbage into pieces.
Once the yam is soft, put in the cabbage.
After a minute or two, add in the pig uterus.
Cook until done (this is your call, I'm no expert!)
Preparation time: 15 minute(s)
Cooking time: 15 minute(s)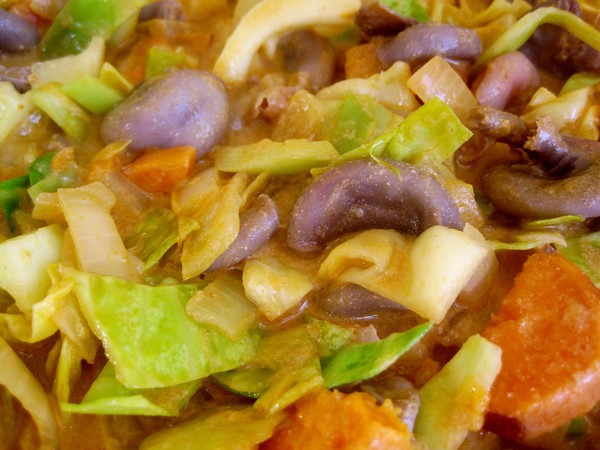 The Verdict
I slightly over cooked mine. The taste was rubber like, but not terrible. Not quite as good as chicken hearts. I didn't get a foul smell. The curry most likely overpowered it. Also, I suspect I used a lower cooking temperature than Bay Area Bites. To reduce the possibility of overcooking, I adjusted the recipe so the cabbage has a 2 minute head start on the pork uterus. The good news was the curry had some heat and sweetness, so I powered through lovingly consumed two bowls of it. And I have leftovers for tomorrow. Don't they always say how leftover uterus tastes best? 😉