Throughout the years, I have spent way more money on car repairs than I should have. Because of my limited knowledge of how a car works, I surrender my credit card to the mechanic and pay whatever they charge. In the last few years, I have started thinking about what steps I can take to prevent myself from unnecessary repairs or being charged too much.
I've looked at other articles on the topic and they all seem lacking. They all boil down to keep records and do your homework. I kept records for years and they did me no good until I transferred them to a shareable format (more on that later). As for doing homework, I think the generic advice of calling around for a lower estimate is fine if your car is driveable and you know exactly what is wrong. Often that isn't the case.
#1 Create a Car Repair Spreadsheet on Google Docs
I did an entire post on this. See Car Repair Spreadsheet – Why Didn't I Think of This Earlier?
Having a folder stuffed full of maintenance records is useless to you when a mechanic is on the phone asking if it is OK to proceed on the XYZ repair. You want to quickly scan a spreadsheet to see if that repair was already done or something similar. Also mechanics often tackle the symptoms and not the underlying cause. Being able to quickly share a spreadsheet with everything ever done to your car can help them diagnose better. Doctors request full medical records to help. Show the same care with your auto.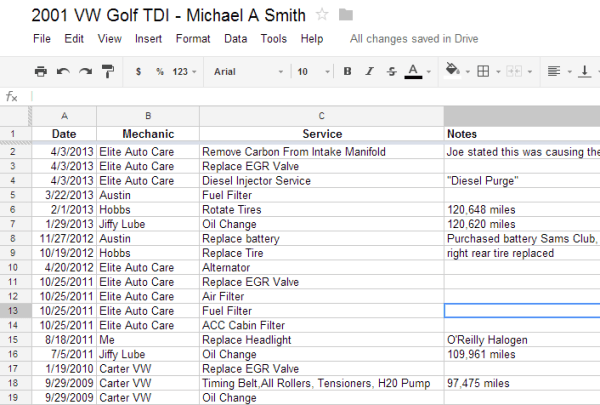 Periodically review your spreadsheet. You can even add a tab for scheduled maintenance.
#2 Buy the Haynes Repair Manual for Your Car
You can go to Amazon right now and purchase the Haynes Repair Manual for your car. Even if you never open it, having it in your car is well worth the $20 you'll spend. When I walk into an auto repair shop for the first time, I come in holding my Haynes Repair Manual. Inside that manual, I pull out a print version of the car repair spreadsheet. Without saying a word, I just set myself apart from 99% of all the customers who walk into the shop. I am less likely to receive a misdiagnosis or an inflated estimate.
The other reason you want the Haynes Manual is to help formulate questions. When the shop calls you up with their diagnosis, jot down a few notes and then tell them you will call them back in 15-30 minutes. That is enough time to read those pages and do a few searches online. You'll be able to ask better questions. The Haynes Manual helps you learn more about your car. You'll be aware of symptoms sooner and be able to address them before they become more expensive problems.

VW Golf, GTI, Jetta and Cabrio, 1999 Thru 2002, Gasoline and diesel engines (Haynes Repair Manuals) by Jay Storer
#3 Use the Word "Curious"
I first shared this trick in the post How to Deal With Comcast. It works for mechanics as well.
Customers often get irate at the auto repair shop. The bill is too high or the work is too slow. I've been a witness to many tense situations. Using the word "curious" even when you know the other party is wrong puts them into a problem-solving mode and also provides a way for them to save face and change positions. Every interaction you have is a negotiation. You want to give the mechanic a path to win you over. Confrontation should be the very last resort.
I explain this in greater detail in You Missed the Point of My Comcast Post.
#4 Research Before You Need Work Done
I don't have a primary care physician, but I have 3 mechanics on a shortlist that I have vetted. Depending upon where I am and the repair severity, I know who I will reach out to fix my car. Start your search with auto forums specific to your car. I own a VW diesel, so the greatest mechanic in my neighborhood is useless to me if the repair I need is specific to diesel engines and they don't work on them.
Once you are outside any warranty period, I wouldn't use the dealer for repairs unless you really trust them. They have an incentive not only to ring the register for repairs but to get you to buy a new car. My experience is that mechanics that specialize in certain cars tend to do the best work. When I had a Civic, I used a garage that only worked on Japanese cars. When I was in Ballard, I got amazing work done by a mechanic that specialized in diesel VWs. These mechanics get extremely good at the models they work on daily.
#5 Say the word YELP on the First Meeting
When I connected with my most recent mechanic, I volunteered that I picked his garage because I read a nice review from a fellow VW driver on YELP. At this point, the mechanic doesn't know if I also write reviews. I don't, but he doesn't need to know that.
#6 Get an OBD-II Scanner
When the check engine light comes on in my car, I pull out my OBD-II adapter and I know instantly what is wrong. Don't waste your time and money taking the car into the mechanic every time the check engine light comes on. Scanners are cheap. The one I have is wireless and connects to my cell phone. Costs me less than $20. See the post When the Check Engine Light Comes On for more details.

VIMVIP ELM 327 Bluetooth Obdii Obd2 Diagnostic Scanner Scan Tool Check Engine Light CAR Code Reader
#7 Use YouTube First
We live in wonderful times. There are some great mechanics making videos that walk you through basic repairs. I went from not knowing or doing anything for my car to replacing bulbs, the cabin air filter, and even a fuel pump (with help from a neighbor). Watching these videos takes the mystery away from many repairs. Even if you don't do the repair, you'll be able to communicate better with your mechanic.
More Ideas?
Do you have another idea that you've used to reduce car repair costs? Drop a comment.