A few weeks ago I received my genetic test results from 23andMe. After deliberating on if it was a good thing to know, I decided to get the $100 test. What made me get the test was when I imagined myself with different chronic illnesses and how different my life would be depending upon which illness was more likely. Plus I just love data. 🙂
So am I genetic gold or genetic junk? The fact you are seeing this post should tell you that it is mostly gold. Had something bad surfaced on the report, I would have kept that secret.
Risk Factors
From the screenshot below, I learned that I have decreased risk for several of the most pressing health conditions. Those include heart disease, diabetes, Alzheimer's and MS.
Note: I reduced the image size so it would fit better on this post. The font size is larger and more readable online. 
In the Typical Risk section, a few different forms of cancer, obesity and Parkinson's show up.
I only had a few items that showed up as Elevated Risk. One was kidney disease, which is something I had never heard of before. Clicking into the report on kidney disease tells me that only 27-33% is attributable to genetics. The rest is environmental and the recommendation is to not smoke, eat healthily and exercise. Done, done and done.
Drug Responses
I was recently listening to my favorite podcast EconTalk and the guest Eric Topal was talking about the future of medicine and the 23andMe tests. If this topic is of interest to you, I highly recommend listening to the full show Topol on the Creative Destruction of Medicine. In the discussion it was pointed how just learning how one responds to so many drugs, including caffeine, makes the test worth it.
Well, if you do a scan of the common variants in a genome, which is really almost becoming not useful–so you can get that now for $99 through 23andMe.com. There aren't many of those consumer-genomic companies still standing. That's certainly the main one. It was $400; it's just come down over time to now $99. That gets you a peek into the genome. It does get, by the way, going back to our discussion earlier about the drug interactions, it gets you something like 25-30 major drug interactions about you. So, just that alone is a bargain in my view.
I learned that I have a reduced response to a drug class called Clopidogrel, which is used to prevent clotting that could trigger a heart attack or stroke. I also learned something interesting about my reaction to caffeine, which I'm posting about on the INeedCoffee article Genetic Testing for the Health Conscious Coffee Drinker.
Inherited Conditions and Traits
There are entire reports for inherited conditions and traits. The one thing that stood out on my inherited conditions was that I have an Alpha-1 Antitrypsin deficiency, which is a protein that primarily protects the lungs. Their advice is I definitively shouldn't start smoking because my lungs would have less protection than someone with two copies of the M (normal) form of the SERPINA1 gene.
I found the Traits section more interesting. From my saliva sample, they were able to say that my eyes were likely blue and that I am likely lactose tolerant. True and true. However, the report stated I do not have an alcohol flush reaction, which is false. And in the more good news category, I discovered that I am norovirus resistant. This is the "stomach flu" outbreak that sometimes hit cruise ships.
Muscle Talk
The Muscle Performance report really surprised me. Before I share my data, I want to refer back to a post I did in August 2012 called Is High-Intensity Training Best for Ectomorphs? The book Body By Science talks about the alpha-actinin-3 gene and how those trainers who lack that marker could be modest intensity responders. Meaning that high intensity might not be best for them. They tend to be built for endurance. And unless I misread everything, they tend to be ectomorphs.
Since last August, I assumed I was in this camp and have reduced my intensity. Well, maybe it is time to turn back up the intensity because I have one copy of the alpha-actinin-3 gene! Did not see that one coming.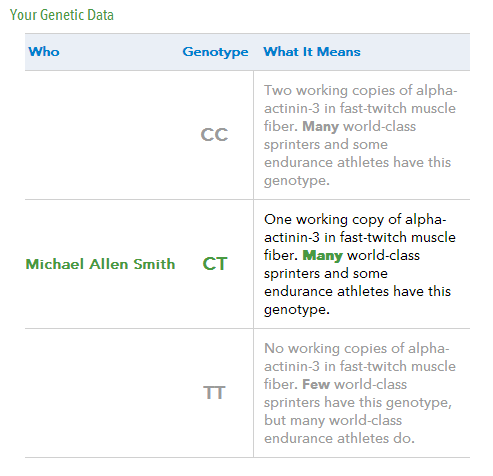 Family and Friends
There is an entire ancestry component to the 23andME that I've just begun to look at. They have already genetically connected me with 989 3rd to 6th cousins. I've learned that I'm 99.5% European – and I thought I was Korean. 😉 How much caveman am I?  2.9%.
Highly Recommended
I am so glad I did this test. I've only begun to scratch the surface of the massive amount of data on the 23andMe site. Every time I log on, there is usually some new data waiting for me. If you are at all interested in your risk factors for illnesses, drug reactions, or how you might respond to caffeine or High-Intensity training, get the test. The ancestry side of 23andMe is as extensive as the Health side.