It has been a year since I posted Is High-Intensity Training Best for Ectomorphs? Time for a follow-up. In the past year, I have scaled down my intensity. As I mentioned in a recent post, the limiting factor for my level of intensity is gym temperature. So for the most part, my environment has played the greatest factor in my lowering intensity.
In the post I did last year, I assumed because I was an ectomorph that I was genetically predisposed to benefit from higher volume, as ectomorphs tend to have more slow-twitch muscle fibers. That assumption was rocked when I got my test results back from 23andMe.
The book Body By Science talks about the alpha-actinin-3 gene and how those trainers who lack that marker could be modest intensity responders. Meaning that high intensity might not be best for them. They tend to be built for endurance. And unless I misread everything, they tend to be ectomorphs.

Since last August, I assumed I was in this camp and have reduced my intensity. Well, maybe it is time to turn back up the intensity, because I have one copy of the alpha-actinin-3 gene! Did not see that one coming.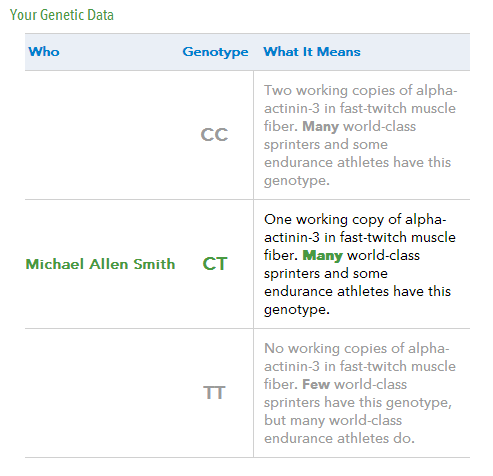 The Last Year
It is really hard to know if I would have had a better or worse year had I pursued higher intensity and lower volume. As I mentioned in the post earlier this week, I probably underestimated the amount of volume I was capable of doing once I lowered my intensity. I think it is sad that so much focus is directed upon specific workout routines. Focusing on reps, sets, weights is likely the least important factor in fitness.
Know your genetics. Either through confident observation or a test from 23andMe.
Safety first. Ignore the bravado nonsense of other fitness "professionals". Avoiding injuries is the #1 thing you can do to improve your physique. Getting sucked into thinking you need the follow the extreme exercise routines of outliers is a losing strategy for all but a handful.
Recovery. Let your body recover before returning to the gym. We, ectomorphs, tend to over train because we lack patience. We over-analyze. We can't sit still. We return to the gym before we are ready and when that doesn't work, we do more. Relax. Stop competing with the genetically (and sometimes chemically) gifted young mesomorphs.
I suspect the least important part of the equation is the volume and intensity tradeoff. Cycle both. Listen to your body. What workouts keep you interested? What works for you might be different than me. And it will change over time. Assuming you've nailed down the first 3 items, there should be a multitude of paths available to strength and muscle gains.