Last October in the post High Satiety Paleo Friendly Foods? I outlined my problem. Right before I go to bed is when I seem to be the most hungry. I seek out foods that are calorie dense that have high food reward. The two foods that I overeat are cheese and almond butter. If it is in the house, I'm going to eat them in excess. In a future post, I will follow up on the ideas from the comments in that post. For this post, I'm going to share my results from a test I did by comparing the satiety of almond butter versus regular almonds.
In preparation for my last Hunting Headaches experiment, I had to give up fermented foods including dairy. I had already scaled back on dairy to a bare minimum because prices for yogurt and cheese spiked. This meant for 3 weeks, my only trouble food was almond butter. I tried to control myself, but after 3 weeks, I had finished 3 jars of almond butter. At the end of the 3rd week, I switched to regular almonds. To make them more healthy, I soaked them Nourishing Traditions style.
Soaking raw almonds with a small amount of sea salt helps neutralize enzyme inhibitors present in the nuts. It makes them easier to digest.
For 3 weeks, my hand went into the almond jar whenever I wanted some nuts for snacking. At the end of 3 weeks, I had polished off 3 pounds of almonds. Now let us run the numbers.
Almond Butter: 4140 calories * 3 jars = 12,420 calories
Raw Almonds: 2576 calories * 3 pounds = 7,728 calories
I was able to reduce my calorie level by 4,692 calories over a 3-week period without increasing hunger. The raw nuts provided greater satiety per calorie. My brain clearly reacts differently to almond butter than raw almonds and the difference was substantial. I was able to consume two foods that were nutritionally equal that provided satiety at different caloric levels.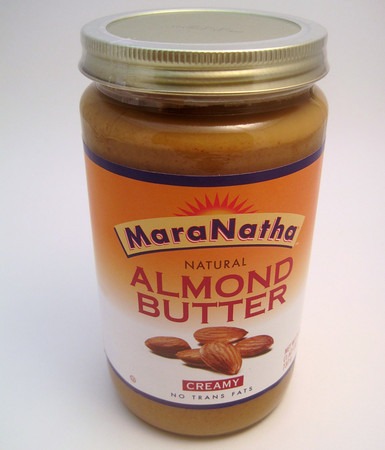 The difference between the almond butter and the raw almonds was much greater than I thought it would be. I wanted to learn more, so I went looking for more information and I found an excellent article titled Five Ways Eating Nuts Can Help You Lose Weight by Kevin Richardson. Go read the full article if this topic interests you. Actually, the entire site is excellent. The paragraph I found most interesting was how chewing itself triggers satiety.
A rather controlled clinical study found that chewing almonds 25 times (which is the average number for most people who eat almonds without trying to choke) elicits the strongest reduction in hunger and increased feeling of fullness two hours after eating, compared to chewing 10 or 40 times.[16] Which leads us to believe there is no need to exaggerate chewing in order to reap the appetite suppressing attributes of nuts since regular chewing seems to do the trick.
With almond butter, there is far less chewing and it takes more calories to reach satiety. This food reward theory has merit.