This is the third post I've done on PUFA. If you missed the other ones, read The Common Enemy in Nutrition and The Problem with PUFA. I think this is an important topic, not because we haven't heard about it, but because so few people have actually pulled out a calculator and ran the numbers. That is what this post is about. It is time to start adding things up and demonstrate just how easy it is to consume too many polyunsaturated fats when consuming a "healthy" diet.
What Are Optimal Levels?
For this chart, I took three recommendations and how they would look across different daily calorie levels.
| | PUFA Limit | 1500 calories | 2000 calories | 2500 calories | 3000 calories |
| --- | --- | --- | --- | --- | --- |
| Perfect Health Diet | < 4% of calories | 6.7 grams | 8.9 grams | 11.1 grams | 13.3 grams |
| Chris Kresser | < 2% of calories | 3.3 grams | 4.4 grams | 5.6 grams | 6.7 grams |
| Ray Peat | < 4 grams | 4.0 grams | 4.0 grams | 4.0 grams | 4.0 grams |
I used the recommendations of The Perfect Health Diet, Chris Kresser, and Ray Peat. The Peat number is something I saw repeated in forums but could not find the original source. It is one thing to say lower your PUFA, but to see the actual numbers is more meaningful. Let us look at the food.
PUFA Levels
In this section what I wanted to do was pull massive amounts of nutritional data together including sample menus to demonstrate that many low-carb Paleo and WAPF diets have PUFA levels higher than those recommended above. Actually, I spent a few hours gathering data and building out a spreadsheet, but then I stumbled onto a post that CarbSane put together in 2011.
In the post PUFA's, the Primal Blueprint and Low Carb diets, she pulled the numbers from the sample menu in  The Primal Blueprint – a book I have spoken highly of in the past – and ran the numbers. It is exactly what I suspected. The Primal Blueprint menus were 8-12% PUFA, which doesn't line up with the suggestions to minimize PUFA. Now I am sure the sources of PUFA are more healthy than seed oils, but they are still high.
This has been bothering me for a while now. Low carb Paleo and WAPF preach against the PUFA, but few have bothered to pull out a calculator to see if their sample menus line up with their own recommendations.
I've been very good about lowering my PUFA intake since I returned from my May trip to Ohio. I stopped buying almonds completely. When it comes to meat I favor lamb and beef over chicken and pork 90% of the time. If I am in a restaurant I choose the item that either wasn't cooked or cooked minimally – even if it means choosing the vegetarian option. In fact, the only time I get a heavy dose of PUFA these days are at the potlucks thrown by my local Paleo group.
A Tale of Two Snacks
When I was deep into Paleo and believed that sugar was evil, I often had a late-night snack of almond butter on sliced apples. These days I often eat a half pint of ice cream. Which is healthier? If you interviewed 100 people, I'd bet 99 would say the sliced apple with almond butter. Let us run the numbers.
1 medium apple sliced and covered with 4 tablespoons of almond butter = 499 calories and 8 g of PUFA (7.8 g Omega 6)
1/2 pint of vanilla ice cream = 464 calories and 0.8 g of PUFA (0.6 g Omega 6)
Yes, I often eat 500-calorie snacks before bed. It helps me sleep better.
If you believe the premise that excess PUFA over time is stressful to the body and that one should keep their PUFA low (below 2-4%) then the ice cream wins. If however, you think sugar is worse than PUFA then the sliced apples with almond butter wins. My opinion changes over time, but right now I think PUFA is a much larger concern than sugar.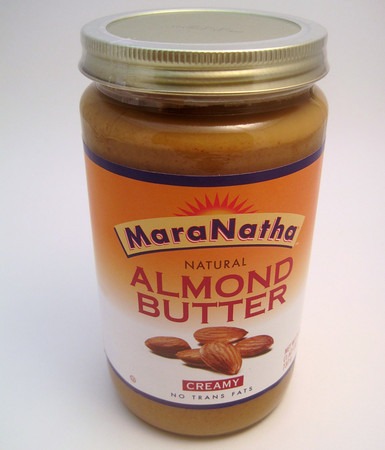 This jar of almond butter has 92 grams of PUFA. I used to go through a jar a week when I was avoiding sugar. That is 13 grams a day of PUFA just from almond butter. When Paleo bloggers talk about nuts in moderation, I don't think they ran the numbers. Plus I don't know anyone that can eat just a few nuts and put the bag away.
Dietary PUFA and Stored PUFA
So far all I have talked about has been dietary PUFA, but the real problem might be what is already stored in our fat tissues. We not only need to minimize the PUFA we eat but get rid of years of eating excess PUFA to optimize metabolism. According to Ray Peat, this process can take four years.
That is four years of eating very low PUFA while the body processes the PUFA stored in fat. Andrew Kim, did a post earlier this year titled The Half-Life of Human Fat Tissue is 600 Days? (FEB 2017: site down) that questions the 4 years and suggests it might be much lower. But the takeaway point should be that the body has a limited capacity for processing PUFA. It will take time. Being on the low end of intake, especially when you first embark on PUFA restriction is mathematically wise.
When I ran the numbers, I came to the conclusion that to get to optimal low PUFA levels, a higher carb and lower fat diet made the most sense. You could construct a low-carb diet with low PUFA levels, but it would be challenging and quite restrictive. Restrictive diets are fine for a month or two, but a year or more? No thanks.